Host Your Holiday Party at Saltwater Coastal Grill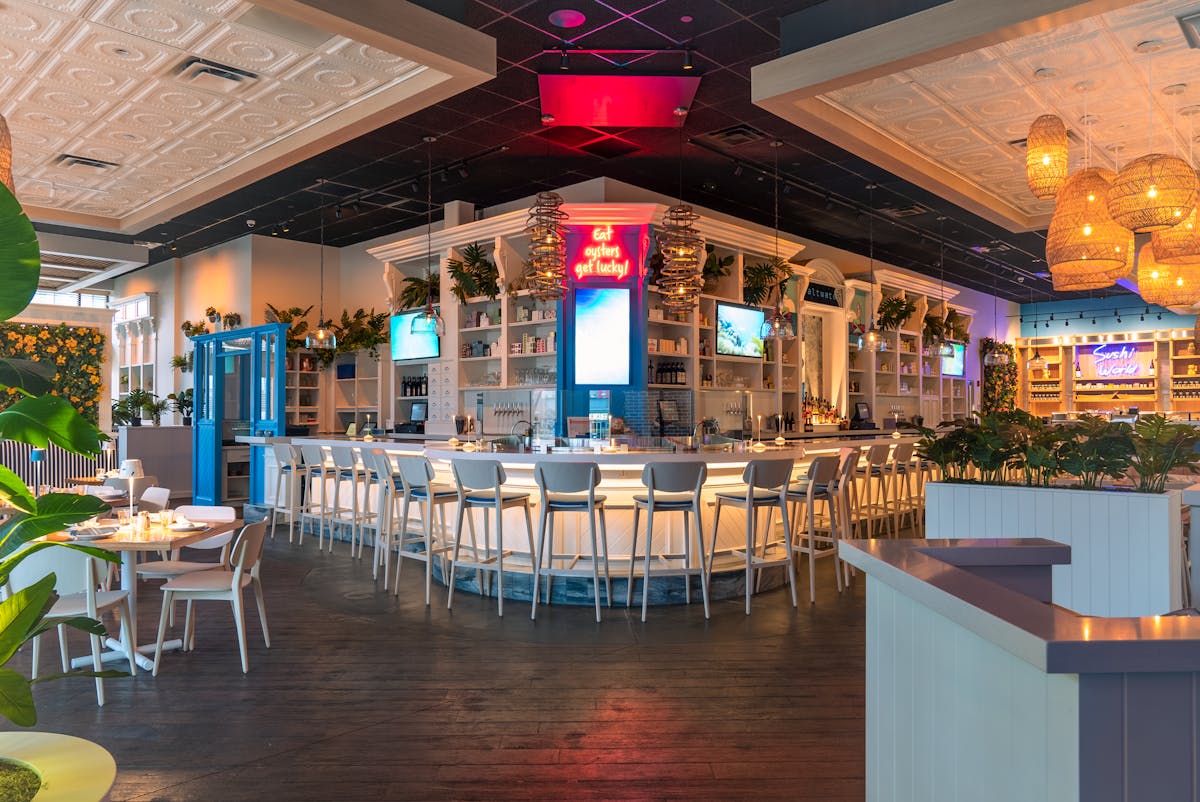 Are you planning to host a holiday party in Rosemont? Look no further than Saltwater Coastal Grill! Our versatile space offers many benefits to make your event one to remember. Book your holiday event with us today, and let us help you create a festive and memorable experience for you and your guests.
Why Host Your Holiday Party in Rosemont
Rosemont is the perfect location to host your holiday party. Its convenient location just minutes from Chicago O'Hare International Airport, Rosemont, is easily accessible for out-of-town guests. It offers various entertainment options, including shopping, dining, and nightlife, making it the ideal destination for a festive celebration. Additionally, Rosemont has an impressive selection of event venues, such as Saltwater Coastal Grill. Saltwater is located in the heart of Rosemont's entertainment district featuring a unique restaurant design. Its convenient location is perfect if you have guests visiting from out of town who require sleeping accommodations or if you want to keep your holiday party going after the main event concludes at Saltwater. Continue reading to see how our versatile space can accommodate parties of all sizes!
Benefits of a Versatile Space
Choosing a versatile event space can bring many benefits to your event. First and foremost, a versatile event space can accommodate a broader range of events, like holiday events for your family, friends, or employees. Hosting a corporate holiday party at Saltwater in Rosemont will boost your employees' morale and blow them away when they see the 7,500-square-foot restaurant prepared to cater to your event needs.
Saltwater's Event Spaces
While providing a unique and memorable dining experience, Saltwater is the perfect venue for any special occasion, gathering, or corporate event. Our spacious restaurant features five private event rooms and experiences to cater to your needs. In addition, our space allows us to accommodate groups of all sizes, the smallest space being 24 guests and the maximum capacity being 300 guests! Overall, Saltwater's versatile event space provides you with the flexibility and customization options you need to create a truly unique and successful event. To better understand Saltwater's event spaces, please view our virtual tour!
Book Your Holiday Event at Saltwater Coastal Grill
Don't wait any longer! Book your holiday event at Saltwater Coastal Grill today and give your guests an unforgettable experience. Please view our event packages for more information about our event menus and private event spaces! Contact us today by filling out our online inquiry form or emailing our event manager at cvasquez@saltwaterrosemont.com to reserve your spot and start planning a festive celebration that everyone will love!